Scaffolding Rentals in Regina, SK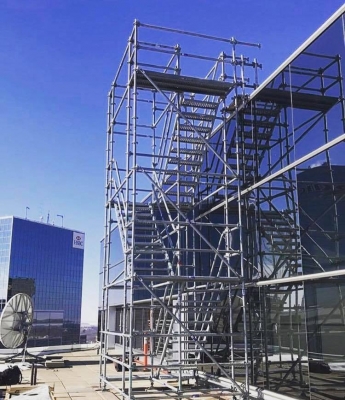 Scaffolding is often the solution for many jobs not on ground level. It can be a helpful piece of equipment when performing construction or maintenance work for extended periods of time where 2nd and 3rd story access is necessary for completion. Or other applications that require multiple personnel to work above ground in order to maximize efficiency and complete the task without wasting unnecessary hours to get the job done.
While having access to scaffolding is indispensable for many projects, durable well-engineered scaffolding systems take up storage space and require secure and protected environments when not in use. Ideally, they should also be inspected regularly to ensure they are free from defects, damage and other potential safety concerns. We have recognized the need for a reliable source of this type of service and equipment. When using our scaffolding rental services, there is no need to provide permanent protected storage or to maintain the associated accessories needed for assembly. At A-1 Rent-Alls, we have been supplying this type of hardware for many years and to all types of projects from residential to large industrial/commercial worksites.
Whether indoors our outside, we offer a wide variety of scaffolding along with swing staging and other access solutions. When you need improved security and access on your jobsite, we supply cost-effective scaffolding and reusable fencing systems tailored to your requirements. Our access systems are competitive, affordable and can be customized to fit any site requirement.
Our Scaffolding division is trained and equipped to get you as high as you need to go and to do it safely. Come in with your requirements and we will set you up with the platform equipment needed for any off-ground project.
---