Regina Equipment Rentals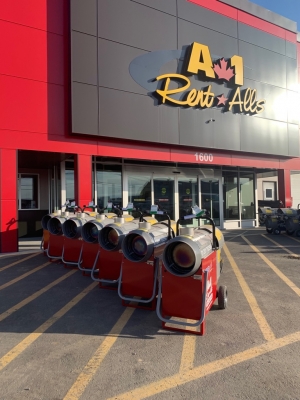 A1 Rent-Alls, is Regina's #1 Equipment Rental Store. We have the biggest selection or quality tools and equipment for rent in Saskatchewan.
For contractors, you can expand and extend your equipment fleet and compete for more jobs.
By using rental equipment you can better manage your warehousing and storage needs.
Rental equipment gives you instant access to the right tool for the job. You won't need to "make do" with something else – you also don't have an investment in something that becomes obsolete or doesn't have the latest safety features.
You can also trim expenses when transporting equipment from site to site. We supply you with what you need, when you need it. That can save time and when you save time, you also save money.
Finally, you no longer have to deal with the disposal of used equipment. Often, this process is not worth the time and effort needed, especially if you need to deal with after the sale problems which inevitably occur. You can free your capital for other purposes and avoid investing in something that depreciates.
---